El derecho al olvido digital. La nueva cara de un derecho tan viejo como polémico. / The right to digital forget. The new face of right as old as polemic.
Palabras clave:
Habeas Data, Constitución Nacional, Derecho al olvido, Derecho comparado, Ley 25.326, National Constitution, Law to oblivion, Comparative law, Law 25.326
Resumen
El presente artículo tiene como objetivo analizar el derecho al olvido en la acción de habeas data, conforme las reglas que justifican su reconocimiento, y los requisitos para establecer cuándo una persona se encuentra amparada por el derecho al olvido. Posteriormente se hará un reconto de la evolución del derecho al olvido en Europa y su recepción en Latinoamérica, para arribar finalmente a conclusiones sobre el debate actual doctrinario, legal y jurisprudencial de la existencia y extensión del derecho al olvido, en cualquiera de sus versiones.

Abstract
This article aims to analyze the right to be forgotten in the action of habeas data, according to the rules that justify its recognition, and the requirements to establish when a person is protected by the right to be forgotten. Subsequently there will be a recount of the evolution of the right to forget in Europe and its reception in Latin America, to finally arrive at conclusions on the current doctrinal, legal and jurisprudential debate about the existence and extension of the right to forget, in any of its versions.
Citas
ARISTÓTELES (1995) Acerca de la memoria ("On memory"), en "The complete Works of Aristotle", Jonathan Aristóteles Barnes (editor), Princeton University Press.
GHEZZI, Alessia. (2014) Theethics of memory in a digital age, Palgrave Mac Millan, Reino Unido, 2014, cit. en O direitoaoesquecimento na Europa e no Brasil, en Revista de Derecho, Comunicaciones y Nuevas Tecnologías No. 15, Universidad de los Andes, Colombia, 2016, en prensa.
MAYER SCHÖNBERGER, Viktor. (2009) "Delete: the virtue of forgetting in the digital
age". Princeton University Press.
PEYRANO, Guillermo. (2004) "El tratamiento de datos personales extraídos de informaciones periodísticas, y su acceso a través de Internet. La protección de los datos personales y el derecho a la autodeterminación informativa, ante las nuevas formas de procesar y comunicar la información", en Estudios de Derecho – Estudios de Derecho Privado – Estudios de Derecho Público – Derecho Público y Procesal" (Homenaje a la Facultad de Derecho de la Universidad Católica Andrés Bello en su 50 aniversario). Caracas (Venezuela), Editorial Universidad Católica Andrés Bello.
SUSI, Mart. (2018) "The internet balancing formula" en "Revista Latinoamericana de Protección de Datos Personales", n° 5, diciembre de 2018, disponible en https://latam. lejister.com/articulos.php?Hash=c244b6530644be807dc60eeb8d073526&hash_t=d0e 4d49d4f8836f252a12153059179f1.
WARREN, Samuel – BRANDEIS, Louis. (1890) "The Right to Privacy", Harvard Law Re- view, vol. IV, núm. 5, 15/12/1890.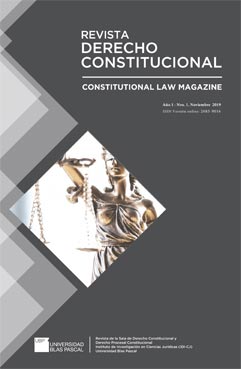 Cómo citar
Oscar Puccinelli. (2019). El derecho al olvido digital. La nueva cara de un derecho tan viejo como polémico. / The right to digital forget. The new face of right as old as polemic. Revista Derecho Constitucional │Universidad Blas Pascal, (1), 78-91. https://doi.org/10.37767/2683-9016(2019)006