El modelo "social" de la discapacidad. Análisis y perspectivas desde la jurisprudencia. / The "social" model of disability. Analysis and perspectives from jurisprudence.
Palabras clave:
Discapacidad, Convención sobre los Derechos de las Personas con Discapacidad, Jurisprudencia, Jurisprudence, Disability, Convention on the Rigths of Persons with Disabilities
Resumen
En el presente artículo se realiza un análisis sobre la evolución en los diversos contextos históricos y/o sociales de las personas con discapacidad. Para luego adentrarse en la normativa que tiene jerarquía constitucional en Argentina como la Convención sobre los Derechos de las Personas con Discapacidad,  igualmente se analizan casos jurisprudenciales de Comisión Interamericana como la Corte Interamericana de Derechos Humanos han intervenido en casos originados por la violación de derechos de las personas con discapacidad, y la justicia federal. Finalmente, se concluye con una relexión personal sobre la discapacidad como cuestión social, diferenciando el rol normativo, y judicial en Argentina.
Abstract
In this article an analysis is made of the evolution in the various historical and / or social contexts of people with disabilities. To later delve into the regulations that have constitutional hierarchy in Argentina such as the Convention on the Rights of Persons with Disabilities, jurisprudential cases of the Inter-American Commission are also analyzed, such as the Inter American Court of Human Rights that have intervened in cases originating from the violation of rights people with disabilities, and federal justice. Finally, it concludes with a personal relection on disability as a social issue, diferentiating the normative and judicial role in Argentina.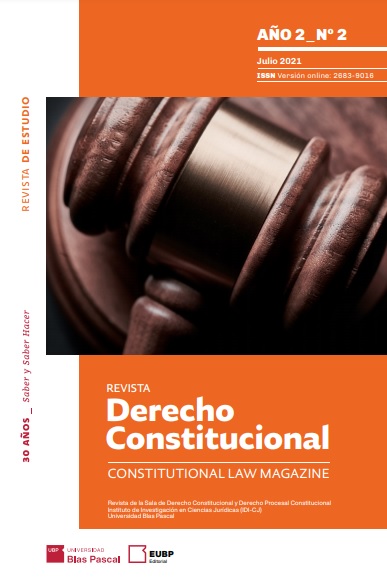 Cómo citar
Avalos, E. (2021). El modelo "social" de la discapacidad. Análisis y perspectivas desde la jurisprudencia. / The "social" model of disability. Analysis and perspectives from jurisprudence. Revista Derecho Constitucional │Universidad Blas Pascal, (2), 13-23. https://doi.org/10.37767/2683-9016(2021)001