Clústeres universitarios: ¿estrategia eficaz para el fomento del espíritu emprendedor en los alumnos de pregrado? / University clusters: effective strategy for enhancing entrepreneurship spirit in undergraduate students?
Regina Garza Roche

Francisco Gerardo Barroso Tanoira

Edgar Román Canul Homá

Carola H. Rivera Cuellar

Ángel Carrillo Cervera

Delfina María Guedimin Bojórquez

Tabata Belain Rivas
Palabras clave:
Universidad emprendedora, Ecosistema emprendedor, Innovación educativa, Formación de emprendedores, Entrepreneurship university, Entrepreneur ecosystem, Innovative education, Entrepreneur training
Resumen
El presente trabajo identifica las estrategias que emplean diversas instituciones de educación superior para fomentar el espíritu emprendedor en sus estudiantes de pregrado, así como el involucramiento de diferentes actores de la sociedad, a través de la formación de clústeres universitarios que permitan resultados de alto impacto en emprendimiento, innovación y solución a problemas sociales. Esto es posible a través de la formación de recursos humanos, pensamiento disruptivo, generación de conocimiento y vinculación con los sectores productivo, académico y gubernamental. Las conclusiones indican que los clústeres universitarios son estrategias eficaces para el fomento del espíritu emprendedor.
ABSTRACT:
This document identifies the strategies used in diverse higher education institutions for enhancing entrepreneurial spirit in their undergraduate students, as well as the involvement of different actors of society through university clusters formation that allow high impact in entrepreneurship, innovation and solutions to social problems. This is possible through human resource training, disruptive thinking, knowledge generation and links with the productive, academic and governmental sectors. The conclusions show that university clusters are effective strategies for enhancing entrepreneurial spirit.
Citas
Alvarado, O. y Rivera, W. F. (2011). "Universidad y emprendimiento, aportes para la formación de profesionales emprendedores". Cuadernos de Administración (Universidad del Valle), 27(45), 61-74. Disponible en: http://www.scielo.org.co/pdf/cuadm/ v27n45/v27n45a04.pdf.
Arteche, M.; Santucci, M. y Welsh, S. (2013). "El rol de la universidad en los clústeres. Indicadores de capital relacional e innovación. Casos Argentina, Brasil y España", Revista Luciérnaga, 5(9): 1-17.
Babson College. (2019) Start your entre- preneurial journey. Recuperado de http:// www.babson.edu.
Birtchnell, T.; Tillmann, B. & Gorking. (2016). R. 3D printing and the third mission: The university in the materialization of intellectual capital. Technological Forecasting & Social Change, 123, 240-249.
Bucardo, A.; Saavedra, M. L. y Camarena, M.
E. (2015) "Hacia una comprensión de los con- ceptos de emprendedores y empresarios", Suma de Negocios, 6(7): 98-107. Disponible en: https://www.researchgate.net/publication/283194953_Hacia_una_comprension_ de_los_conceptos_de_emprendedores_y_ empresarios.
Del Águila, A. R.; Padilla, A.; Fuster, E. y Lockett E. s.f. Universidad emprendedora. El caso de las spin-offs universitarias. ¿Nuevas teorías para los mismos obstáculos? Lancaster University Management School. Disponible en: https://www.mincotur.gob. es/Publicaciones/Publicacionesperiodicas/ EconomiaIndustrial/RevistaEconomiaIn- dustrial/404/DEL%20AGUILA,%20PADI- LLA,%20FUSTER%20Y%20LOCKETT.pdf.
Etzkowitz, H. y Leydesdorff, L. (1997). "Introduction of special issue on Science policy dimensions of the Triple Helix of university- industry-government relations", Science and public policy, 24(1): 2-5. DOI: https://doi. org/10.1093/spp/24.1.2.
Figueroa, V. M. (2013). "El rol de la universidad en el desarrollo. La perspectiva de los organismos internacionales", en M. E. Martínez de Ita; F. J. Piñero y S. A. Figue- roa (comps), El papel de la universidad en el desarrollo, México, Consejo Latinoamericano de Ciencias Sociales y Benemérita Uni- versidad Autónoma de Puebla. Disponible en: http://biblioteca.clacso.edu.ar/clacso/ se/20140211121020/universidad.pdf.
Guerrero M.; Urbano, D. y Fayolle, A. (2016). "Entrepreneurial activity and regional competitiveness: evidence from European entre- preneurial universities", Journal of Technolo- gy Transfer, 41: 105-131.
Harvard University. (2019) Harvard Inno- vation Labs. Recuperado de https://innovationlabs.harvard.edu/
Iglesias, P.; Jambrino, C. y Peñafiel, A. (2012) "Caracterización de las Spin-Off universita- rias como mecanismo de transferencia de tecnología a través de un análisis clúster", Revista Europea de Dirección y Economía de la Empresa, 21(3): 240-254. Disponible en: https://www.sciencedirect.com/scien- ce/article/pii/S1019683812000054.
ITESM. (2019) Emprendimiento. Recuperado de https://tec.mx/es/emprendimiento.
McCormick, D. (2005) "El futuro de los clústeres y las cadenas productivas", Semestre Económico, 8(15): 87-102. Disponible en: https://www.redalyc.org/ pdf/1650/165013659005.pdf.
MIT. (2019) Martin Trust Center for MIT Entrepreneurship. Recuperado de http://en- trepreneurship.mit.edu/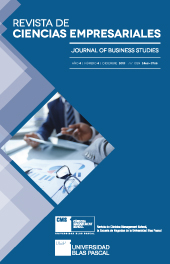 Cómo citar
Garza Roche, R., Barroso Tanoira, F. G., Canul Homá, E. R., Rivera Cuellar, C. H., Carrillo Cervera, Ángel, Guedimin Bojórquez, D. M., & Belain Rivas, T. (2020). Clústeres universitarios: ¿estrategia eficaz para el fomento del espíritu emprendedor en los alumnos de pregrado? / University clusters: effective strategy for enhancing entrepreneurship spirit in undergraduate students?. Revista De Ciencias Empresariales │Universidad Blas Pascal, (4 (2019), 7-21. https://doi.org/10.37767/2468-9785(2019)001