O meio ambiente artificial e a saúde física e mental do trabalhador latino americano
The artificial environment and the physical and mental health of the latin american worker
Milton Marcelo Hahn

UNISANTA

Rosilma Menezes Roldan

Universidade Santa Cecília

Marcelo Lamy

Universidade Santa Cecília
Palabras clave:
Meio ambiente do trabalho, Saúde do trabalhador, Direito ambiental, Direito à saúde, Medicina do trabalho, Artificial environment, Worker's health, Environmental law, Right to health, Occupational medicine
Resumen
Esse trabalho tem como objetivo investigar o impacto causado na saúde física e mental do trabalhador pelo meio ambiente artificial, influenciado por fatores como poluição sonora, poluição atmosférica, poluição hídrica, assédio moral, confinamento, esforços repetitivos, e buscar formas de mitigação desses fatores que possam, ao desequilibrar o meio ambiente, contribuir para o desenvolvimento de várias doenças, já estudadas e publicadas em diversos artigos científicos. As relações entre saúde/doença mental e vulnerabilidade social são muito complexas e exigem uma série de reflexões e contextualizações para ser compreendidas. O fato é que, nas últimas décadas, o número de pessoas expostas a acontecimentos traumáticos aumentou de maneira significativa à medida que várias formas de violência vêm engolfando as populações civis no mundo inteiro, o que constitui um ônus adicional persistente que conduz a doenças, mortes e invalidez.
This paper aims to investigate the impact on the physical and mental health of workers by the artificial environment, influenced by factors such as noise pollution, air pollution, water pollution, bullying, confinement, repetitive efforts, and seek ways to mitigate these factors can, by unbalancing the environment, contribute to the development of various diseases, already studied and published in several scientific articles. The relationships between health/mental illness and social vulnerability are very complex and require a series of reflections and contextualizations to be understood. The fact is that, in recent decades, the number of people exposed to traumatic events has increased significantly as various forms of violence engulf civilian populations worldwide, thus contributing to a persistent additional burden of disease, death and disability.
Citas
BRANDÃO, Claudio (1999): Meio ambiente do trabalho saudável: direito fundamental do trabalhador. Revista do Tribunal Regional do Trabalho 1.ª Região. V. 21, n.° 49, pp 89/99.
CARVALHO, Edson Henrique de (2019): Síndrome de Burnout: Condições de Trabalho e os Problemas Jurídicos. Dissertação de Mestrado, Universidade Santa Cecília, Santos, São Paulo.
DEJOURS, Christophe (2015): A loucura do trabalho: estudo de psicopatologia do trabalho. 6ª Ed. São Paulo: Cortez.
MINISTÉRIO DA SAÚDE DO BRASIL (2001): Doenças Relacionadas ao Trabalho. MS/BR Brasília/DF – Brasil.
Organização Mundial da Saúde(2002): Children's health and the environment: A review of evidence. De www.eea.europa.eu/publications/environmental_issue_report_2002_29, Data de consulta: 10/05/2019.
Organização Mundial da Saúde (2001) National Institute of Public Health Denmark. Health Effects of Noise on Children and Perception of the Risk of Noise.De https://www.who.int/ceh/capacity/v1_ruido.pdf, data de consulta: 12/05/2019.
Pasterna. (2016k, Suzana). Habitação e saúde. Estudos Avançados, Scielo 30(86), pp 51-66. https://dx.doi.org/10.1590/S0103-40142016.00100004
ROLDAN, Rosilma Menezes (2019) A poluição atmosférica e o direito à mitigação de seus impactos na saúde humana por coberturas vegetadas e por arborização. Dissertação de Mestrado, Universidade Santa Cecília, Santos, São Paulo.
SILVA, José Marcos da; SANTOS, Mariana Olívia Santana dos; AUGUSTO, Lia Giraldo da Silva and GURGEL, Idê Gomes Dantas(2013): Desenvolvimento sustentável e saúde do trabalhador nos estudos de impacto ambiental de refinarias no Brasil. Saude soc. [online]. 2013, vol.22, n.3, pp.687-700.http://dx.doi.org/10.1590/S0104-1290201300030000
ZAJARKIEWICCH, Daniel Fernando Bondarenco (2010): Poluição sonora urbana: principais fontes. Aspectos jurídicos e técnicos. Dissertação de Mestrado em Direito. Pontifícia Universidade Católica de São Paulo. São Paulo, SP.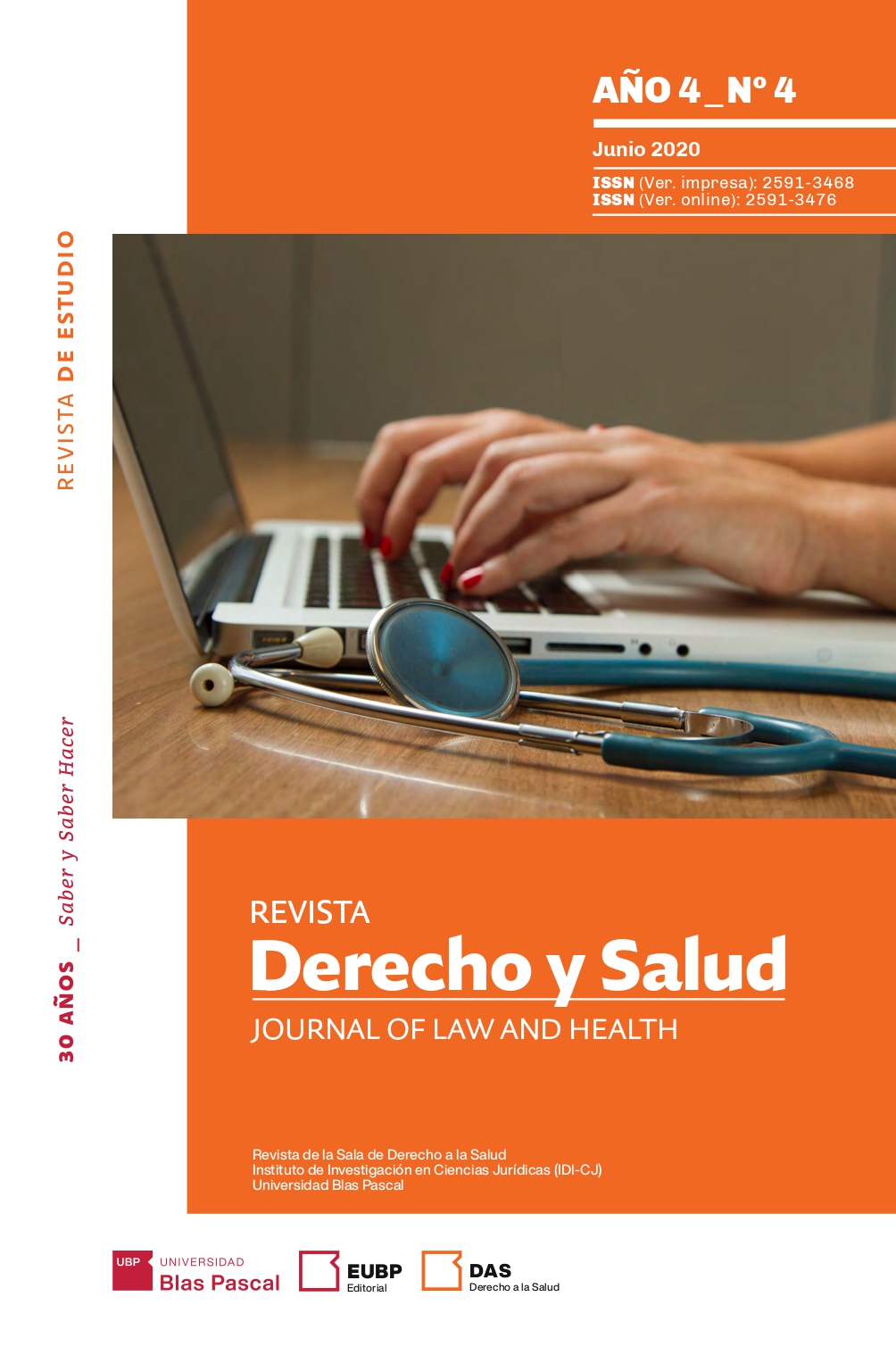 Cómo citar
Hahn, M. M., Menezes Roldan, R., & Lamy, M. (2020). O meio ambiente artificial e a saúde física e mental do trabalhador latino americano. Revista Derecho Y Salud | Universidad Blas Pascal, (4), 110-118. https://doi.org/10.37767/2591-3476(2020)09
Sección
Estudios Especiales