Milagro sobre el río Han. / Miracle on the Han river.
Palabras clave:
Corea del Sur, Desarrollo económico, Cultura, Innovación, Educación, Conglomerado, South Korea, Economic development, Culture, Innovation, Education, Conglomerate
Resumen
El caso de estudio que se presenta a continuación pretende exponer las variables económicas, políticas, sociales y culturales que fueron instrumentales para el desarrollo económico de Corea del Sur, luego de finalizada la Guerra de Corea y hasta mediados de los 90s. El fin último que persigue este artículo es descubrir y hacer explícitas aquellas buenas prácticas que podrían ser aplicadas por otras naciones emergentes, para generar condiciones de crecimiento similares a las de Corea del Sur. El trabajo se encuentra complementado por un análisis comparativo sobre los valores culturales de Corea del Sur y Argentina, ya que la cultura es un aspecto clave que debe ser considerado a la hora de analizar e instanciar las lecciones que se exponen en el artículo. La información expuesta se encuentra respaldada por una amplia investigación de literatura e información estadística actualizada, así como también, se nutre de la experiencia vivencial del autor tras estudiar dichos aspectos en Corea del Sur.
ABSTRACT:
The study case presented below, aims to expose the economic, political, social and cultural variables that were instrumental in the economic development of South Korea, after the Korean War ended to the mid-90s. The ultimate purpose of this paper is to discover and make explicit those good practices that could be applied by other emerging economy nations to generate similar growth conditions as South Korea. The work is complemented by a comparative analysis of the cultural values of South Korea and Argentina, since culture is a key aspect that must be taken into account when analyzing and instantiating any of the lessons outlined in this article. The material presented is supported by an extensive updated literature and statistical information research; also it draws on the author´s experience having studied these aspects in South Korea.
Citas
BANCO MUNDIAL, Indicadores de Desarrollo Mundial, http://data.worldbank.org/indicator, 2015.
DUTTA S., LANVIN D. & WUNSCH-Vincent S., "The global innovation index 2014: The human factor in innovation", World Intellectual Property Organization, 2014.
GUPTA N., "Innovation Policies of South Korea", Institute for Defense Analyses, 2013.
HWA SUN-HEE, "History and strategy of korean economic development", Ajou University, Graduate School of International Studies, 2014.
KDI SCHOOL OF PUBLIC POLICY AND MANAGEMENT, "Miracle on the Han river", Korean Ministry of Strategy and Finance, 2011.
ORGANIZATION FOR ECONOMIC COOPERATION AND DEVELOPMENT, http://www.oecdbetterlifeindex.org/es/countries/ korea-es/, 2015.
PROGRAMA PARA LA EVALUACIÓN INTERNACIONAL DE LOS ALUMNOS, "Reporte de resultados de PISA 2012", OCDE, 2014.
SAKONG I. & Youngsun K., "La economía surcoreana: seis décadas de crecimiento y desarrollo", Naciones Unidas, 2012.
SEVERIN E. & CAPOTA C., "El uso de la tecnología en la educación: Lecciones desde Corea del Sur", Banco Interamericano de Desarrollo, 2011.
SUN-HO L., "Contemporary Korean Society", Ajou University, Graduate School of International Studies, 2014.
The Bloomberg Innovation Index, http:// www.bloomberg.com/graphics/2015-innovative-countries/, 2015.
The Hosftede Centre, http://geert-hofstede.com/countries.html, 2015.
World Intellectual Property Organization, "World Intellectual Property Indicators Report", 2014.
YOUNG-OK A., "Technology innovation and global strategy", Ajou University, Graduate School of International Studies, 2014.
YUNG-HO C., "Organization structure and human resource management for innovation", Ajou University, Graduate School of International Studies, 2014.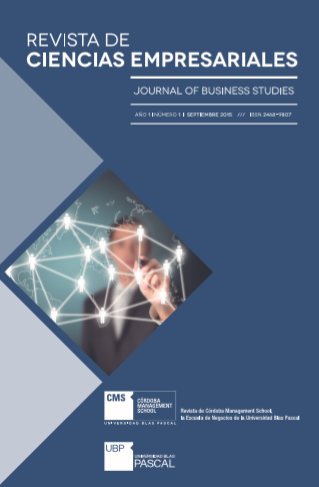 Cómo citar
Piccolotto, P. (2020). Milagro sobre el río Han. / Miracle on the Han river. Revista De Ciencias Empresariales │Universidad Blas Pascal, (1 (2015), 64-83. https://doi.org/10.37767/2468-9785(2015)005